Smart Factory is a concept within the so-called 4th industrial revolution (Industry 4.0) that considers the union of two worlds: the virtual and the physical, where the main feature is the use of technology.
This reorganization in the productive world obeys a forced change, which pushes to increase the quality of its producers or services and to adapt them, to improve in comparison with its competitors, to be able to offer a product according to the needs, tastes, and demands of its customers.
Among the advantages of the Smart Factory, the following stand out:
The automation of industrial processes makes it easy to perform tasks that are considered difficult or very costly.
Production must be in accordance with demand, producing only the right amount and with higher quality.
An important point for competitors is the ease of adapting their equipment or production lines to rapid changes, adding flexibility without sacrificing quality.
This will lead to a reduction of costs and time invested in the realization of your products.
Smart Factories are immersed in the use of renewable energies and in the creation of new infrastructure models that help improve environmental impact and local and global urban development.
We are all aware that any change requires an investment, however; refusing to do so could imply a loss of competitiveness or even the closure of the business.
Therefore, it is vitally important to re-evaluate the current conditions of your factory and think about the changes this implies.
One of the concerns, when faced with this type of event, is to determine where to start. Undoubtedly, the fact of being bombarded with so much information and the speed with which it moves creates a feeling of uncertainty and despair. This is understandable, so here are some suggestions to face this challenge, based on experience and contact with the real world.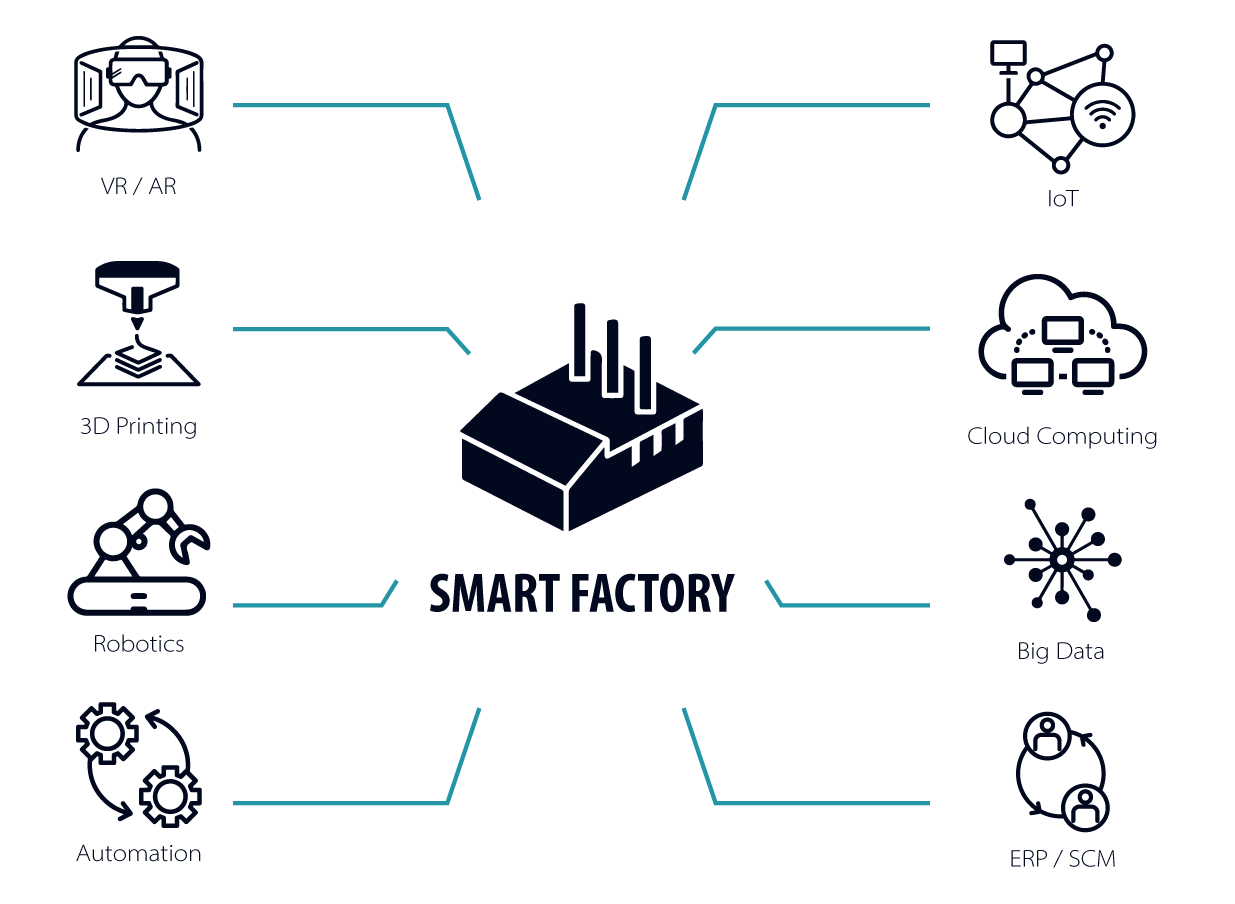 Recommendations to enter the Smart Factory concept
Overcoming myths and taboos
You must assimilate that this is not a fad but a reality. It is necessary to convince yourself that it is better to be within the change for reasons of quality and competitiveness, trends, legal provisions, and environmental issues.
Bringing together the right people
This change means significant technological challenges, so it is essential to bring together people with decision-making capabilities and alignment to the company's strategies and who can determine what is technologically possible.
Answer these questions
If we manufacture with more flexibility, would it help us attract more customers? What costs (e.g., energy, raw materials) would pose a risk to our business model? What should our production do to increase customer satisfaction and loyalty? What can help us stand out from the competition?
Understanding the Smart Factory concept
Although this term means - the use of technology- it also means your future. Understanding how the use of technology and the exploitation of data will lead you to make better decisions, you will walk with the most correct glasses.
You must find a common language, and clarify concepts such as IoT, Artificial Intelligence, Big Data, and Machine Learning to turn these concepts into common and feasible goals.
Visualize your ideal state
Once you are clear about your objectives, imagine the ideal state of your business, make a cost-benefit assessment and an investment plan, and consider the risks.
Don't forget to take a picture of the current state so you can compare it to the future.
Identify the most relevant processes
You can start by identifying the most relevant processes to you, from a cost, difficulty, risk, or time point of view. Apply Pareto's Law or Principle, also known as the 80/20 Rule, which states that, in general, and for many phenomena, approximately 80% of the consequences come from 20% of the causes.
Establish or modify the key performance indicators (KPIs).
You may already have these indicators, however, allow yourself to re-evaluate them, now with the inclusion of the added elements. KPIs measure the success of our actions and their subsequent return.
Research solutions
It would seem that this means a large or unnecessary expense, however, there are solutions on the market to initiate this change, for example: talk about automating a production line to include sensors, connecting them to the wireless network, have a system that stores data on a large scale (Big Data) and provides a meaning for decision making (Business Intelligence), for this, there are solutions framed in the concepts of IoT and cloud solutions (SaaS) that only pay for the use and are interconnected by standardized protocols (API). Details like these can help you measure your costs without investing in large infrastructures.
In addition, they provide visualization tools such as dashboards and, due to their processing capacity, can provide you with information in near real-time.
Reuse
You may consider that many of your equipment is obsolete, however, establishing a good strategy including solutions with IoT equipment and sensors, can help you to reactivate those obsolete equipment and provide the information you need and adapt them with data generation capabilities, self-learning, and self-management (Machine Learning), to provide you with the current status and capabilities or prevention alerts of the same equipment, tooling or a possible failure.
Do not invent the wheel!
It is better to use industry-wide standards offered by vendors so that you do not venture into manufacturing and developing your solutions, concepts such as IoT, Unified Space Name, OPC server, SaaS, Edge Devices, Microservices, REST API, JSON, etc., are available and equipment manufacturers are aligning to these standards.
On a production floor, there can be a lot of underutilized computing equipment, i.e., performing a simple task and not consuming all the CPU's memory or processing. Implement software or strategies through IoT devices that optimize these resources and process data closer to where it was created (Edge Computing) and access real-time analytics.
Listen to the experts
Don't leave out the experts who live the process day in and day out, experienced operators, support engineers, and key users. "They know how much the sack weighs. The more motivated these people are, the more successful your implementation will be.
Training of staff
Undoubtedly the most important element in this change is the human element. Include your operators, technicians, and engineers in this new project, giving them training and continuous training to prevent them from feeling displaced and contribute to continuous improvement.
Request support
Allow yourself to listen to people who have experience in process automation and IT solutions integration, they will take you by the hand according to their capabilities. At iBtest we are confident that we can help you with your integration into the era of digital transformation.
Are you interested in learning more? Visit our YouTube channel and discover more content. 
Related articles: